| | |
| --- | --- |
| | The ADRK World Family continues to grow. But what do we know about Rottweiler, their attitude and clubs in other countries? Is there anything similar to an ADRK e.V.? How are the Rottweilers perceived in these countries and cultures? How many breeders and puppies are officially registered? We have personally visited a breeder in South Africa to answer some of these questions. Neil Perkins (President of the Rottweiler Breed Council) und Alex Varela (Breeding Director of the Rottweiler Breed Council) are South African Rottweiler breeders and great enthusiasts of this wonderful breed. |
Photo: Alex (left), Neil (right)
Olga: Neil, what can we imagine of a Rottweiler Club in South Africa?
Neil: We don't have the same structure as the ADRK in Germany. In South Africa we have seven independent Rottweiler clubs, four of which are located here in Gauteng. Although it is the smallest province, it has the highest population density. These clubs belong to the Kennel Union of Southern Africa (KUSA). This is our equivalent to the VDH. As a result, the clubs are automatically members of the Rottweiler Breed Council, the so-called Rottweiler Breeders Council. Every association is represented by a representative in the council.
The Breeders' Council is responsible for the protection of the breed and its development. The associations have the right to address requests to the Breeders' Council with the aim of changing certain regulations. This is then the task of the Breeders' Council to represent them at KUSA. However, the Breeders' Council itself has the say when it comes to the requirements for shows, judge qualifications or breeders.
Each member of a Rottweiler club pays a membership fee, but to his own club and not to the breeder council. However, all recorded Rottweiler breeders are obliged to pay a symbolic amount of approx. 2.5 € to the Breeders' Council when registering a puppy. The money is then used to pay the KUSA fees and to support some activities of the council.
Actually everybody can found a Rottweiler association, if you can make sure that there are enough financial means and support to be recognized by KUSA.
Olga: Can you tell us more about your clubs and your participation in ADRK World Family?
Neil: There are about 430 members in all 7 Rottweiler clubs. For us ADRK is a role model we pursue. We are pleased to have the opportunity to belong to the ADRK World Family and to maintain our cooperation with the ADRK. But we also have differences in some regulations. For example, our main breeding requirements include mandatory elbow and hip screening with FCI scoring, a minimum age for breeding and permanent identification of all dogs with microchips.
We offer all recognized dog sport qualifications through KUSA as prescribed by the FCI. Unfortunately I, as FCI IPO judge, have to state at this point that the participation of the Rottweilers in such tests is relatively low compared to the German and Belgian shepherd dog.
Olga: Why is it like this? Aren't Rottweilers popular here?
Neil: On the contrary, Rottweiler is the second most popular breed after the Yorkshire Terrier, according to official KUSA statistics. Every year we have about 1,200 officially registered puppies. Here in South Africa the Rottweiler is considered more as a watch or family dog. In addition, we do not have the same regulations for breeding as in Germany. Therefore the request for such complex tests is kept within limits. However, if you decide to lead the dog to a competition, then the so-called old German ZTP is applied.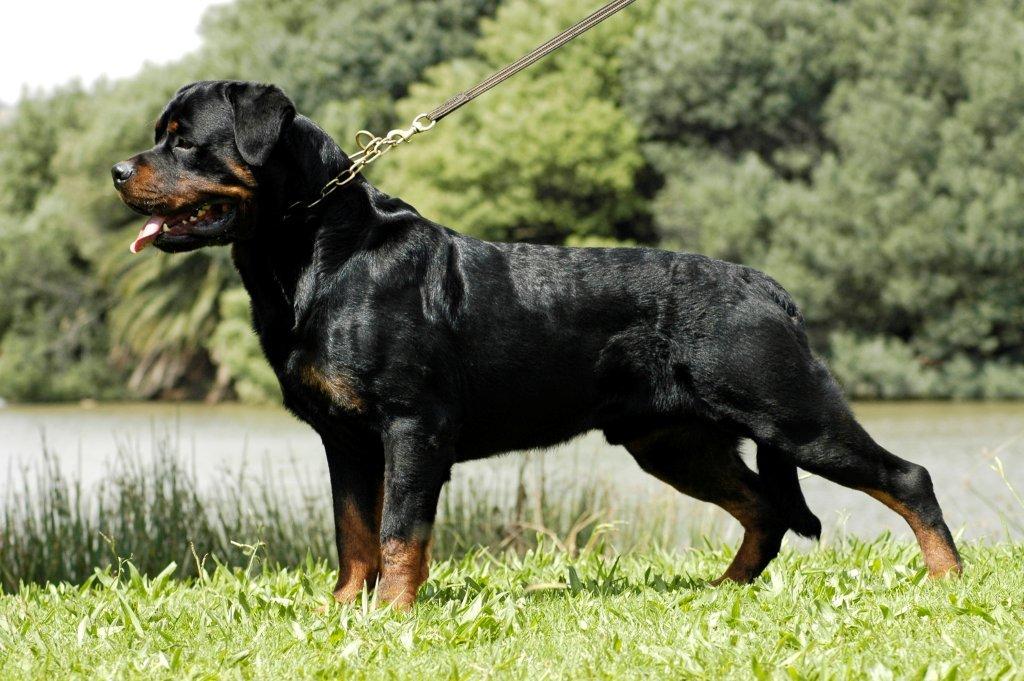 Photo: Quanto
Olga: You are a breeder yourself, is it a good business for you?
Neil: Breeding is not a business for us and we condemn purely commercial breeding because it is harmful to the Rottweiler. I bought my first Rottweiler in 1996 and had my U-litter at the end of last year. Alex' first dog came in 1987 and he would now be a proud 5th generation great-grandfather. Our ultimate goal is to breed healthy dogs that meet the ADRK standards. Therefore we invest a lot of time to find the best connections. I think, as a breeder you have to have some luck. In the early 90's the quality of the Rottweiler breed decreased drastically. At that time it was not so easy to import a Rottweiler from abroad because of the political and economic situation. Times have changed fortunately and today we have dogs from all over the world in our gene pool.
Olga: How many dogs from Germany do you have?
Neil: Only one - Gringo from Casanova. We very much value seeing the dogs live in action. Therefore we travel every 2 to 3 years to Germany to see the ADRK Club Winner Show. The risk of a puppy purchase without parents to have seen is simply too large. But not every breeder has such a luxury or such a devotion. In addition, the Eastern European market offers a much easier access to puppy imports than the German market. There are different factors for it, like e.g. language barriers in addition, the price. In addition there is the appreciation of the breed in South Africa. Unfortunately, many people do not attach such great importance to a controlled breeding or the working qualities of the dog. Rather the appearance of the dog is decisive. He must have taken part in big European shows. That is all that counts. An import from Germany is considered too expensive and too risky, so we notice that the focus is slowly moving from Germany to other countries with increasing international influence in Rottweiler breeding.
Olga: What does the ideal customer look like?
Neil: We take a lot of time to meet the future owners of our puppies. We do not export dogs to other African countries and only make an exception if we are confident that the dogs will be well cared for and will not be bred commercially with them. We attach great importance to staying in personal contact with the owners of our puppies. In addition, the market already allows us a good preselection. A Rottweiler with necessary papers costs about 700 € while the minimum wage in South Africa is about 250 €. Nowadays a Rottweiler is regarded as an elitist hobby, so that only well educated people can afford such a thing. They invest a lot of time and effort in such a dog.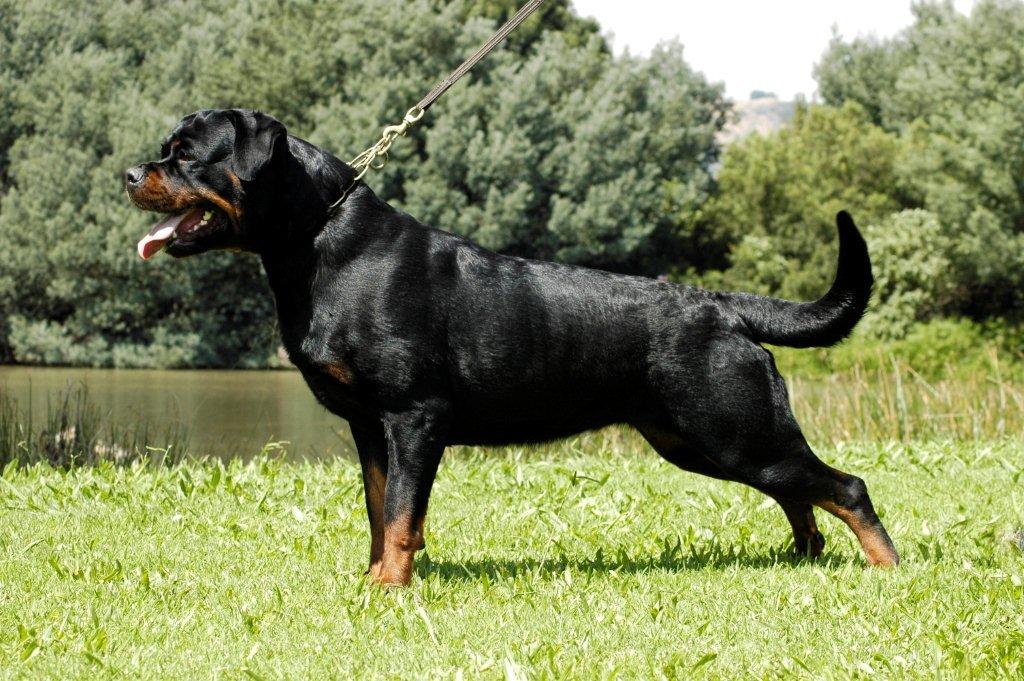 Photo: Rhaine
Olga: You have 14 wonderful dogs here, what do your neighbours say?
Neil: They appreciate our dogs very much and are also interested in what we do with them. But we are also lucky that the Rottweiler in South Africa is not associated with a negative image, as in Germany and many other parts of the world.
Text: Olga Shershneva
Photos: Michael Dudenko, Neil Perkins